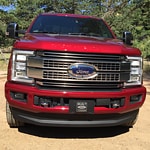 If you want a reliable truck that's prepared to be just as productive as you are, you're going to love the new Ford Super Duty. The Super Duty is a long-time favorite of heavy-duty pickup drivers in Kahului and beyond, and you're bound to be impressed when you stop in to see the various models that are available right now at Valley Isle Motors Ford.
Whether you require transportation for personnel, high-tech connectivity features, cargo-hauling ability or all of the above, the Ford Super Duty is set to deliver. The cab supplies comfortable seating space for up to five adults that can also be used to carry tools and equipment as needed.
Optional on-board wi-fi means that you'll always have access to important information, and a convenient dash-mounted control screen will help you safely hook up to a trailer and allow you to monitor items that are being carried in the spacious, durable cargo bed.