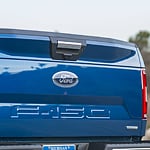 The Ford F-150 might be one of the toughest pickup trucks available. Consumers continually make the F-150 a popular and well-reviewed truck, as the model does deliver on expectations. A closer look at all the capabilities of the F-150 quickly reveals that Ford designed an incredible truck that stands out.
The bed and body of any pickup truck often define it. People haul cargo, and they have to travel through some tough environment. Is the F-150 constructed in such a way to handle these tasks? Considering that a military-grade aluminum alloy composes the bed/body combo, it's safe to say that drivers can travel through all kinds of environments with confidence.
Four-wheel-drive also gets the F-150 where it needs to go. No matter how tough the terrain turns out to be, the F-150 can travel on and through it. Drivers traveling off the normal paths take note.
And you can travel in a Ford F-150 if you visit Valley Isle Motors Ford. The sales team would love for you to go on a test drive.