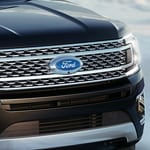 When you are on the lookout for a popular full-size SUV, take a look at what the all-new Ford Expedition can offer to you. This powerful and impressively built sports utility vehicle comes with features that allow it to outperform its competition. These features ensure you get the best ride every time out of your new Expedition.
Capable of towing thousands of pounds, the newest Expedition from Ford comes outfitted with a blind spot monitoring system that also includes trailer backup assist. You can now safely tow a livestock trailer, flatbed trailer or small vehicles behind your Expedition and know that it remains in your lane of traffic.
The feature also lets you know immediately what is in your blind spot so you can avoid passing into oncoming traffic. You will know if the passing lane is clear or if anyone is in your blind spot while driving on any journey.